Exotica's Recent Mother's Day Ads
You know, the whole fuss on the blogosphere and twitter that has been going on about Exotica's ads, to which I didn't really react or respond... Finally, I now have something to say about it, because it's taking too much of our lives, I might as well nag.
For me, the big nose and big ear hereditary thingie, was simply a case of "I see, I get, Exotica changed their way, no use of flowers, riskay, I like and I wasn't offended at all". Because for me, I won't stand in front of mom and tell her:
"Mom thanks for everything you gave me (however I perceive beauty that is) but the nose... not so much, I mean how could you? You know, if I were you I wouldn't have gotten married so I don't risk giving a bad nose to my children, or maybe mom, you should've waited till the genetic engineering would have really advanced on the subject!"
Old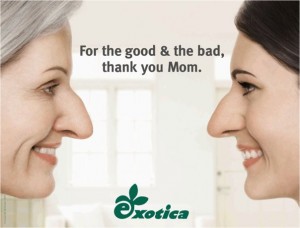 New
Thank you, no good no bad... just Thank you
For me, when I say thanks mom, I don't say thanks for the good, or thanks for the bad, I just say Thank you mom, I love you for who you are and what I am because of you. In my opinion, if I wanted to criticize Exotica, that would've been it. Just thank you, yet I really respect the fact that they risked something out here, and mentioned both good and bad so they can get out of the cliché. Why the big fuss though and bashing exotica, it was beyond me. Fellow blogger Maya found it
offensive
, and many others showed their frustration on twitter as well.
Some offended by Exotica's Billboard Ads
However, and this is
where
I agree with Maya, the Moukarzel ad, which I saw some time ago, even before March 8 - the International Women's Day, and there is also the C&F ad, they're plain silly. Especially the Moukarzel one, when I saw it, I knew who it was targeted for.
Not only Jewelery is my right, but a 2010 Bentley!
I can never imagine a woman going to her husband and telling him:
"7ayeteh Afif, ana bejle w bnaddif w bkannis w jeybe wled w inta bit massi7 fiye el ared eddem el jiran, w marra shaba2tneh kaff la2anno 7atet mele7 zyede bil mjadra, HOWEVER (language turns English, because they have better women rights then us), I DEMAND TO RECEIVE JEWELERY, YOU SEXIST PR*CK "
Oh well, as Maya and
Plus961.com
put it, Exotica listened (although for me it wasn't necessary, yet it is nice to see Exotica acknowledge the importance of social media nowadays), so I join my voice to Maya and hope that Moukarzel (ah I just remembered his other horrid ads in which he stands in the back, his skin color so different from the model's) and whoever else diminishes the importance of a mother by a perfume, or a Tefal, or a carpet, to listen and start doing real impressive creative billboards.
(So, do we as bloggers get something from Exotica because we've been talking about you so much? Come on, incentive? Send me white daisies, I love daisies)
Photos Courtesy of Jobox.blogspot.com and MayaZankoul.com, Comic courtesy of Maya of course!